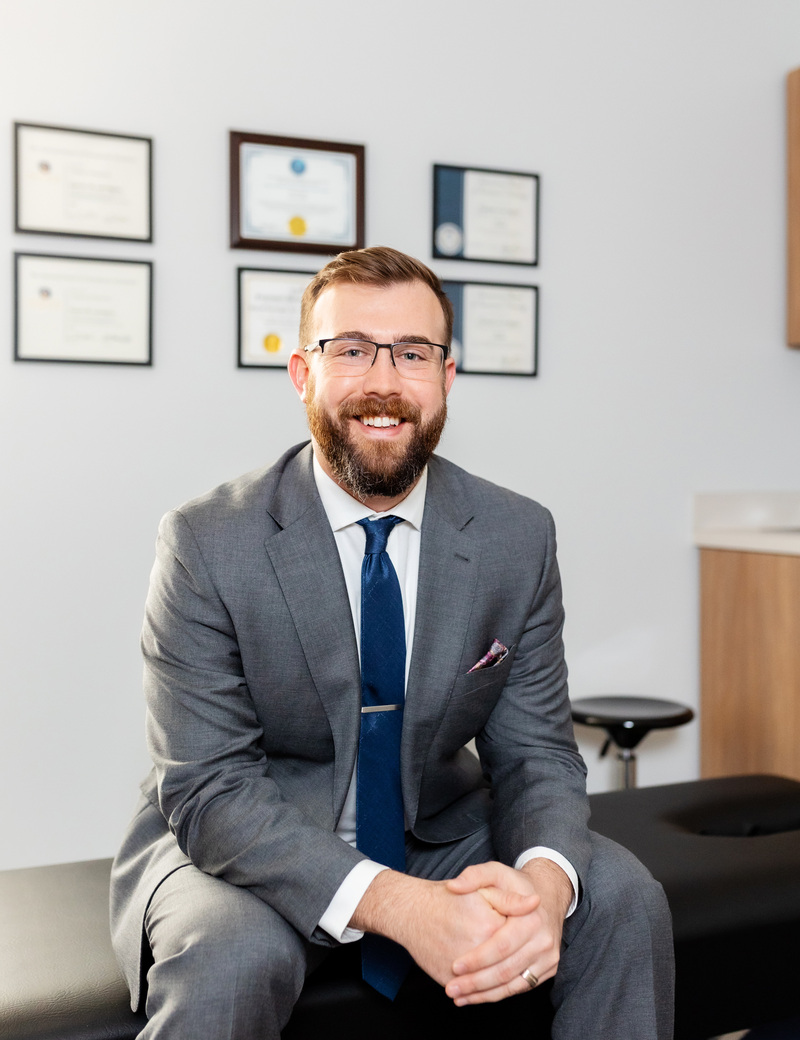 Dr. Garrett Larrington
DC, MS, FIBFN-FN, FIBN-CND, CFMP
Chiropractic, Functional Medicine, Functional Neurology/Childhood Developmental disorders
Dr. Garrett Larrington graduated from Parker University in 2019 with his Doctor of Chiropractic degree with specific areas of expertise in Functional Medicine and Functional Neurology.
Dr. Larrington holds a Masters in Neuroscience, is a Fellow in Functional Neurology through the International Board of Functional Neurology (IBFN), and is a Fellow in Childhood Developmental Disorders through IBFN. He believes that every person has unlimited potential, no matter what their epigenetic or genetic make up is. He believes that the brain controls everything in the body and through the environment and stimuli given to the brain we develop. He is constantly reviewing new research and therapies to help his patients, whether you struggle with a genetic disorder, stroke, TBI, Developmental delay or more. We get outcomes others didn't think were possible. This is why he does it, to give hope back to those who have lost it.
He did additional training in Functional Medicine and was awarded the title of being a certified functional medicine practitioner, Dr. Larrington is also board eligible for the American Clinical Board of Nutrition with over 300 hours of post doctoral studies. Dr. Larrington believes that what we eat is what our body uses to heal. He has a love for helping patients find their root cause of their chronic health condition and removing barriers to allow the body to heal. His passion for helping others and drive to learn as much as he can to help his patients is what really sets him apart.
Dr. Larrington lives in McKinney with his wife Dr. Kendra and a fur baby named Gunnar. In his spare time he enjoys hiking, working out, reading, and watching soccer.
Dr. Kendra Larrington
D.C.
Child Birth Education, Chiropractic, Fertility Care
Dr. Kendra Larrington was born and raised in California and couldn't get to Texas fast enough. She moved to Dallas to start her chiropractic education where she graduated from Parker University in 2019 with her Doctor of Chiropractic degree, with specific areas of expertise in prenatal and pediatric. Dr. Kendra is Certified by the Academy Council on Chiropractic Pediatrics (CACCP), Webster Technique certified by the International Pediatric Chiropractic Association as well as Schaefer Protocol certified. She has completed all 200+ hours of post doctorate course work in the care of pregnant and pediatric patients in order to obtain her CACCP certification.
She has a passion for helping create a healthier generation starting with the preconception couples and many pregnant women and children she has helped reach a better quality of life by reducing subluxation throughout their bodies and looks forward to helping many more. She believes that all pregnant women and children should have access to chiropractic care for maximum health potential and an amazing birth experience. Throughout her career she has been known for her gentle touch, how much she cares for her practice members and fun personality.
Dr. Kendra is distinguished as an expert in the chiropractic care of preconception couples, pregnant women, and children. She receives referrals from midwives and OBGYN's for co-management of pregnant women as well as referrals from pediatricians, pediatric dentists and ENT's for co-management of children.
Dr. Kendra lives in McKinney with her husband and fur baby. In her spare time, you would find her most likely reading, working out or spending time with family and friends. She practices what she preaches and would not recommend anything she hasn't done or currently doing. She wants to see families take back their health and women take back their birth to help create better health in the next generation starting with US!
<![CDATA[TU11YStNbnJlcFZyNy95SFppU3RuajFOUGozMDhnMzc0bnh0VTNHTUx3VnA5Um9RSi8xMWNRTTA1Z1d0WW96TjVXVzY4OWFvdzc3bmVuOWgvNlNSMTBnaTNNUUlXSU9qWDREZEhObDdHU0VoWlU0cm1zYVNLQ3RjTkZDOHNndTQtLVJDM0d4REZQMTNlT2krQzZvVzNnM0E9PQ==--a78bd336b0e355d80f00c2d5b311d4a477b447d7]]>